SolarWinds Unified Login¶
Using SolarWinds® Unified Login, you can easily access other SolarWinds DevOps products — Loggly, Papertrail, and Pingdom — right from AppOptics and activate a free trial in seconds. Once the product has been activated, you can freely navigate between products and/or access the activated product directly using the same AppOptics login credentials. You won't need to manage multiple credentials across different SolarWinds DevOps products.
Organizations, Accounts, and Users¶
When you create an account with AppOptics, we create an organization for you behind the scenes. You are the designated organization owner and are automatically added as a team member with an Admin role. You have the option to add more team members to that organization.
If you are invited to an existing organization, you are identified by your unique email address and added to the organization with the role (e.g., Admin, Member) chosen by the person who invited you.
With Unified Login, you have access to ALL SolarWinds DevOps products. You can use the app switcher to switch back and forth between all SolarWinds DevOps Tools.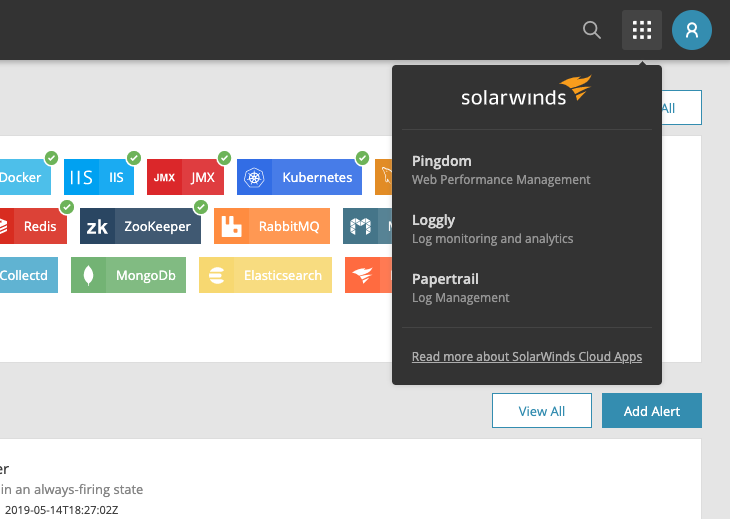 You can also participate in multiple instances of each product if you are a member of several organizations. For example, if you are logged in to your AppOptics account, the profile menu will show you all the AppOptics organizations you have access to.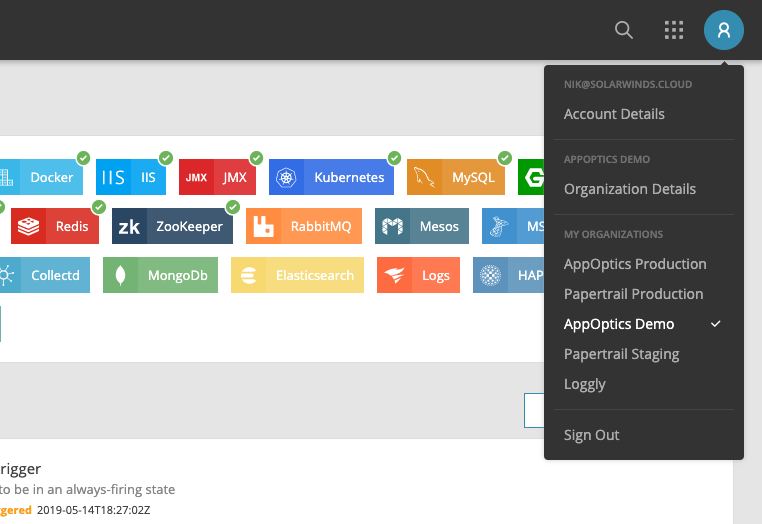 If you use the App Switcher to switch to Loggly for example, the profile menu in Loggly will show you all the Loggly organizations you have access to.
Note
When you switch from one product to another, for example, from AppOptics to Loggly, and then switch organizations within Loggly, you are in a different organization than you started. If you then switch back to AppOptics you will switch in the context of the last organization you were in. If you don't have an AppOptics account in that organization context, you will be asked to start a new trial.