Service-Side Aggregation (SSA)¶
Service-Side Aggregation allows you to aggregate multiple measurements sent to the AppOptics API into a single complex measurement. You have always been able to aggregate individual measurements at the client-side with solutions like StatsD and the Aggregator for the AppOptics-metrics Ruby gem. However, many times these client-side solutions are either not feasible to run or do not aggregate across collectors. Aggregating on the service side enables several different unique use-cases highlighted below.
If enabled for a metric, service-side aggregation will aggregate all measurements sent to the API with the same metric and tag set. Measurements are aggregated over the period of time defined in the metric's attribute page. If a period is not set for a metric the default aggregation period is 60 seconds.
Aggregation operates the same as historical roll-ups. Aggregates are published as complex metrics allowing them to be plotted using summary statistic functions.
Service-side aggregation can work alongside client-side aggregation as well - client aggregates are aggregated similarly to individual measurements. An HTTP POST operation still has some time overhead, so it's not recommended to make a request to the AppOptics API for every request into a user's application. The client should instead aggregate multiple request measurements locally and periodically send those aggregates to the AppOptics API.
How to enable¶
To enable service-side aggregation via the API, set the aggregate attribute to true for the particular metric.
Set the metric's period to the interval you would like to aggregate over.
If you do not specify a period, SSA will aggregate measurements to the default 60 second period.
Metric aggregation periods are limited to a minimum of 10 seconds and a maximum of 600 seconds (10 minutes).
You can also enable service aggregation within the UI by selecting the "service-side aggregation" option and optionally setting a period usingthe option "Metric reports every X seconds/minutes"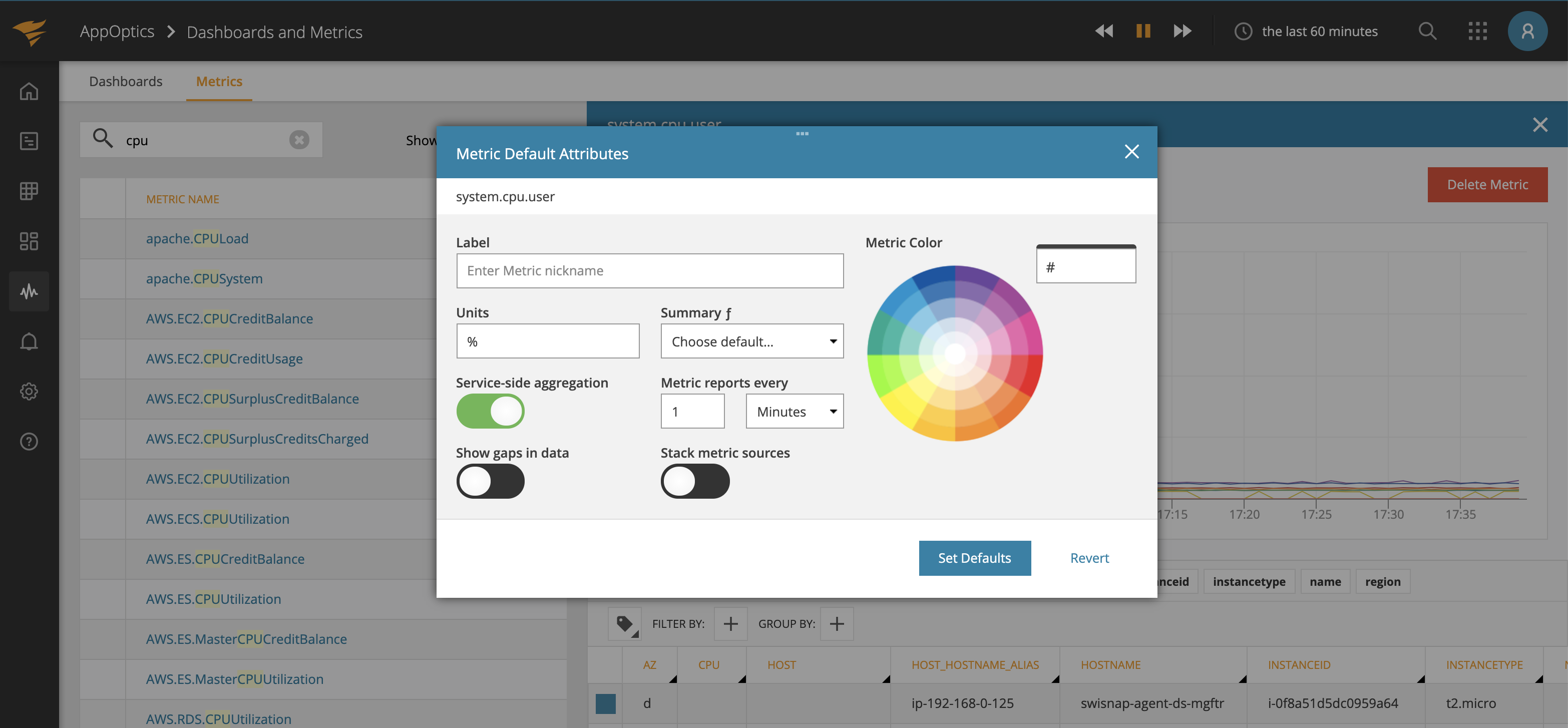 Use Cases¶
There are many use-cases that service-side aggregation enables.