Custom Instrumentation¶
Custom instrumentation can be used to get extra application-specific visibility in AppOptics. Overall, there are numerous options for providing custom data including statsd, our REST API, and other plugins. However, in an APM-instrumented application the language SDK methods provided by the agent can be the simplest and most performant ways to get additional visibility. The SDK methods can be used to log more details as spans on a traced request, and report custom timer/counter metrics.
AppOptics traces are formed of spans tracking service execution and data logged along the way. The APM agents log spans for key application and language features out of the box, including most common frameworks and libraries.
However, it's quite simple to add custom span instrumentation in your favorite language, for instance:
import

 

appoptics_apm





@appoptics_apm

.

log_method

(

'slow_thing'

)




def

 

my_possibly_slow_method

(

...

):


    

...



What does that log_method decorator do? Read on for a quick anatomy of spans.
All agent SDK calls, whether exposed as annotation, decorator or function, essentially create events which are the building blocks of a span, which in turn build a trace. An event can be represented as a set of key-value (KV) pairs; this is displayed in the Raw Data when you click on a span in the Trace Detail. An example is shown below, note that certain KVs such as those keyed by Host* are automatically added during trace processing so should not be set in the SDK call.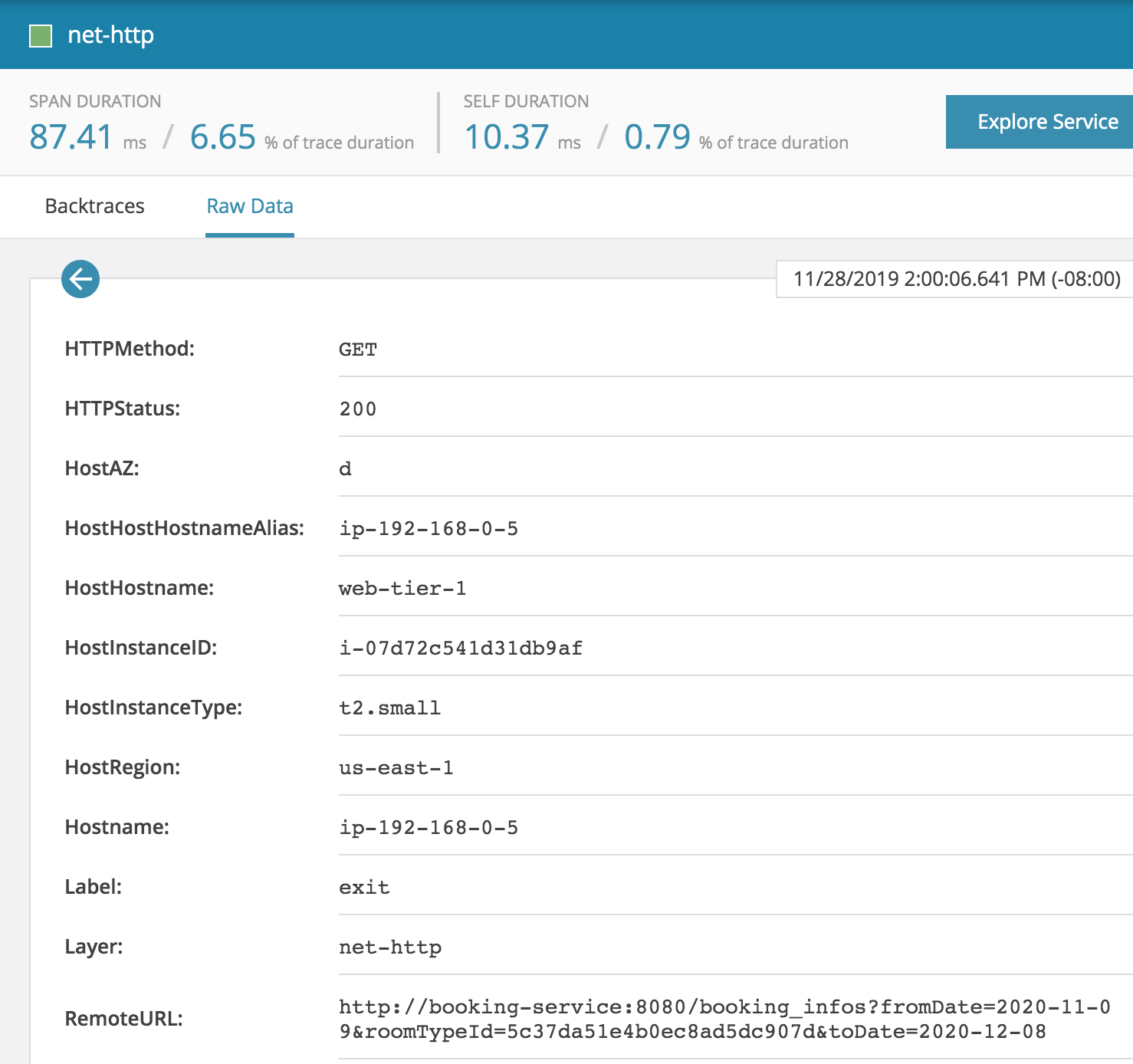 An event is a set of KV pairs which records a point in the execution flow of a request through the application. There are four types of events as defined by the Label KV:
entry

and

exit

are used to begin and end a span

info

is used to log more information into a particular span

error

is used to log errors/exceptions
A pair of entry and exit events form a span which captures timing and other important data about a particular operation in the application.
A collection of linked spans form the trace which shows the entire flow and performance of a request (aka transaction) as it traverses the components and distributed systems in the application.
Spans are usually linked automatically by agent's context tracking. There could be some edge cases that explicit context propagation is necessary by using SDK calls. Please refer to each language agent SDK for details.
Each trace has a root span which is not linked to any parent span, and represents both the entire transaction and its entry point into the application.
The SDK annotations, decorators and higher level span-specific functions take care of creating the underlying events to form a span. However, when using lower level SDK calls that create a single event, you must ensure that the calls are made in the proper order and set the expected KVs to generate the matching entry and exit required for a span. The rules are:
the first SDK call marking entry into a new span must set Label to

entry

and Layer to a descriptive span name
the final SDK call marking exit from the span must set Label to

exit

and Layer to the same span name as the entry event
a span can have any number of intervening events (most commonly

info

and

error

) between the entry and exit, it is recommended to explicitly set Layer to the same span name as the entry event; if unset it defaults to the name of the current span
a span can have nested sub-spans

How does AppOptics decide whether a span is a database query, a remote service call, or just part of an application? Trace processing interprets the KVs reported on a span, using the set of rules specified below, so that certain spans receive special treatment. Spans that do not fit these rules will still be processed but categorized as generic spans.
The KV pairs can be set in any of the entry, info or exit events of the span.
The required KVs must be set for a span to be recognized as a particular type, while optional KVs provide additional information that enhance AppOptics trace processing and analytics.
Custom metrics allow timing and counters/gauges for use in dashboarding and alerting:
long

 

startTime

 

=

 

System

.

currentTimeMillis

();




// some work here...




long

 

duration

 

=

 

System

.

currentTimeMillis

()

 

-

 

startTime

;





Metrics

.

summaryMetric

(

"my-work-duration"

,

 

duration

,

 

tags

);




Metrics

.

incrementMetric

(

"my-work-count"

,

 

tags

);



There are also a number of other ways to provide custom metrics including statsd, our REST API, and other plugins.